With the rising prominence of Kubernetes, there is a great need for professionals with a thorough understanding of Kubernetes. This article compares two of the best Kubernetes certifications to help individuals decide which certification to pursue. This blog provides a detailed comparison of CKA vs CKS to understand their difference.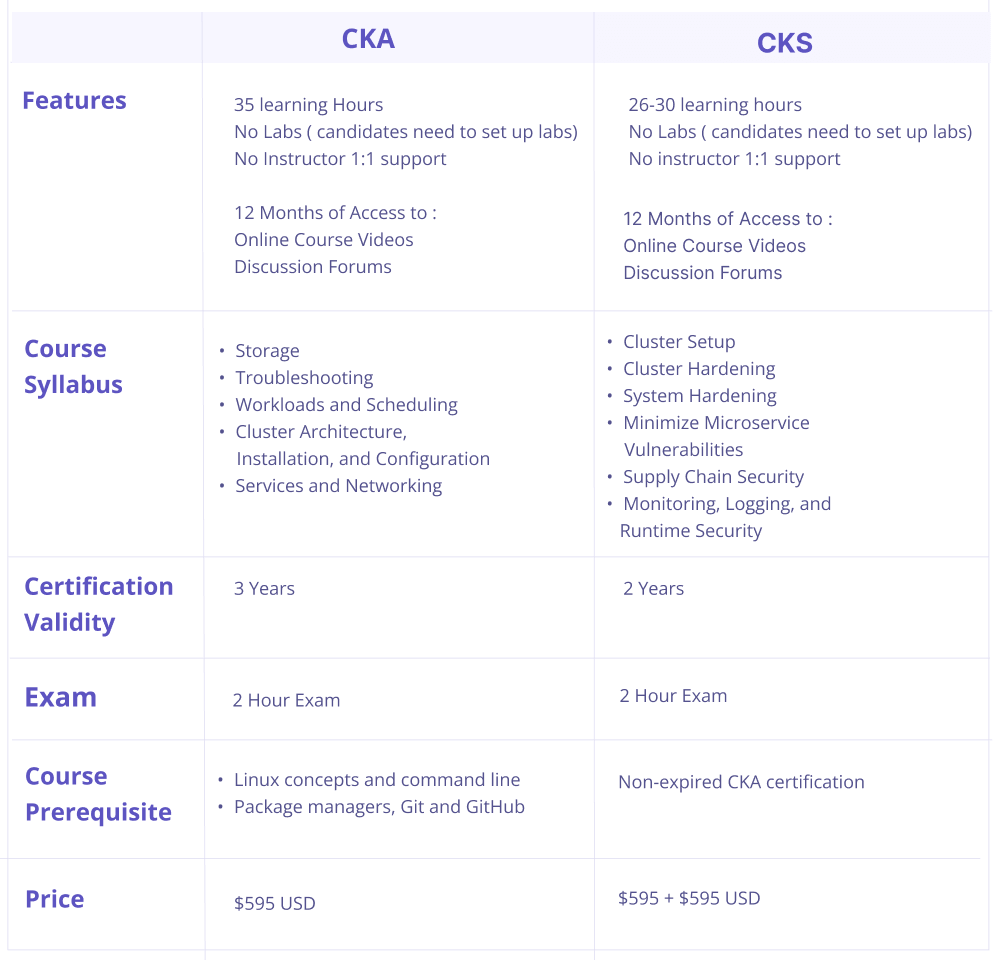 CKA – Certified Kubernetes Administrator
The CKA certification is designed for IT professionals, cloud administrators, and Kubernetes administrators. It evaluates a candidate's ability to perform Kubernetes administrative tasks such as setting up, managing clusters, updating Kubernetes, and handling related networking, storage, and services.
To prepare for the CKA exam, the Linux Foundation offers the Kubernetes Fundamentals LFS258 course. However, the course does not include labs, so students need to create their own based on the lab guide provided.
The CKA certification fee is USD 595 and remains valid for three years.
Also read, CKA vs CKAD: Which is the Better Kubernetes Certification
CKS – Certified Kubernetes Security Specialist
CKS (Certified Kubernetes Security Specialist) is a certification to upgrade a candidate's knowledge of Kubernetes security fundamentals.
The course content includes cluster setup, cluster hardening, system hardening, minimizing microservice vulnerabilities, supply chain security, monitoring, logging, and runtime security.
The certification costs USD 595, and a non-expired CKA certification is mandatory before registering for the CKS exam. 
CKS certification is valid for two years, and there is no hands-on lab training or interaction with instructors to clarify doubts.
Also read, Is CKS Certification Worth It?
CKA vs. CKS: What is the Difference

CKA (Certified Kubernetes Administrator) and CKS (Certified Kubernetes Security Specialist) are two different Kubernetes certification exams provided by the Cloud-Native Computing Foundation (CNCF). Here are the differences between CKA and CKS:
Focus: CKA focuses on testing the candidate's skills in designing, deploying, and managing Kubernetes clusters, while CKS focuses on testing the candidate's skills in securing Kubernetes security.
Exam Content: The CKA exam covers Kubernetes core concepts, installation, configuration, networking, storage, security, and troubleshooting, whereas the CKS exam focuses on Kubernetes security concepts, cluster hardening, identity and access management, security monitoring, and security policy.
Prerequisites: CKA's prerequisite is a certification or good understanding of Linux concepts and command line, basics of Kubernetes, package managers, Git, and GitHub. However, for the CKS, the prerequisite is to have a non-expired CKA certification.
Certification Validity: Both CKA and CKS certifications are valid for 3 years. After that, the candidate must recertify by passing the latest exam.
Target audience: CKA is meant for  Kubernetes administrators, cloud administrators, and other IT professionals. In comparison, CKS is meant for DevOps engineers, Software engineers, Site Reliability engineers, and anyone who wants to get a basic understanding of Kubernetes security.
Also read, CKS vs CCNSE: Which is the better Kubernetes security certification ?
Become Certified in Kubernetes Security
The Practical DevSecOps's  Certified Cloud-Native Security Expert (CCNSE) course is an industry-recognized certification to specialize in Kubernetes security.

This certification provides hands-on training through browser-based labs for  all major Kubernetes security concepts, such as:
Hacking Kubernetes Cluster,

Kubernetes Authentication and Authorization,

Kubernetes Admission Controllers, Kubernetes Data Security,

Kubernetes Network Security,

Defending Kubernetes Cluster
Start your Kubernetes Security Journey through CCNSE!