Organizations now face a multitude of security challenges. To address this, more organizations are adopting a proactive approach by implementing DevSecOps practices. However, finding skilled DevSecOps professionals has proven difficult for many organizations. DevSecOps courses serve as a roadmap for building skilled DevSecOps professionals who can help organizations address their security needs. In this blog, we'll explore some of the best DevSecOps certifications that can help individuals build a successful career in this exciting field.
Best DevSecOps Certification Courses in 2023
Choosing the best DevSecOps certification is an important decision for anyone looking to build their skills and advance their career in this field. It's important to consider several factors when making this decision, including:
Mentorship
Practical, project-based learning
Good, legitimate reviews
Transparency
A solid and credible presence
Proof that it works
Certificate Prerequisites
Resources provided
Nature of Exam
Certification Validity
You can carefully evaluate and compare the best DevSecOps course with the help of the table given below-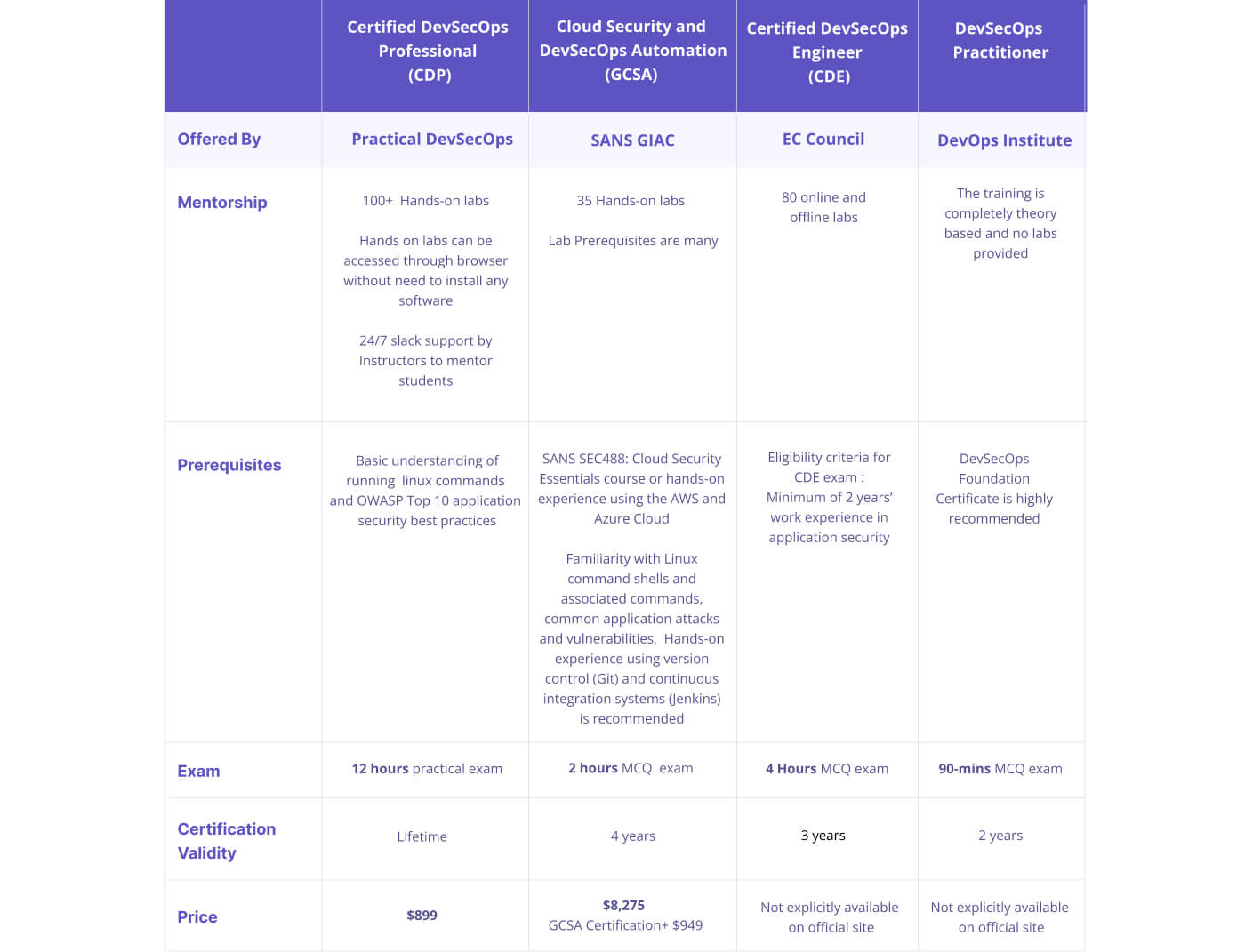 Certified DevSecOps Professionals (CDP) by Practical DevSecOps 
The Certified DevSecOps Professional Certification by Practical DevSecOps is one of the best DevSecOps course that provides hands-on training through browser-based labs, 24/7 instructor support, and helpful learning resources to upskill in  DevSecOps. The course demands no prior experience with DevOps. Upon completion of the course, participants will attempt a 12-hour practical exam. The course fee is $899 USD, and there is no expiry date for the certification validity. 
Pros:
The course includes 100+ guided hands-on exercises in their virtual labs, which is great for practical experience.

Exposure to multiple CI/CD Systems 

Vendor-neutral learning

A dedicated Slack channel provides 24/7 support from instructors. No other institution provides that.

Browser-based labs

No certification or exam prerequisites.

The certification has no expiry date, which means it is valid indefinitely.

The course fee is relatively affordable. 

Certification is among the preferred certification for DevSecOps roles by global organizations. Only certification to have a task-oriented examination. Gives employees confidence in their ability in DevSecOps. 
Cons:
 Since the exam is task-oriented, clearing the exam may not be easy.
Cloud Security and DevSecOps Automation Certification (GCSA) by SANS (GIAC)
The Cloud Security and DevSecOps Automation Certification by SANS (GIAC) is a DevSecOps course certification focused on cloud security and DevSecOps automation. The course prerequisites require the completion of SANS SEC488 or practical experience with AWS and Azure Cloud. A basic understanding of OWASP Top 10, Linux command shells, and Git is necessary. Also, Hands-on experience with Git and  Jenkins is recommended. The certification exam is multiple-choice and scenario-based and is valid for four years. The fee is $8,275 USD, with an additional $949 USD for GCSA certification. 
Pros:
The SANS GIAC Certification body has a long-established history and is quite well-known in the industry.
Cons:
The SANS Cloud Security and DevSecOps Automation GIAC Certification can be quite expensive. The cost of the exam itself can range from several hundred to several thousand dollars.

There are a lot of system requirements for attending the virtual lab associated with the course. 

Certification is pretty expensive for someone to enroll independently and upskill themselves without organizational support.

Does not provide mentorship post the 5-day training.

The exam is MCQ Based on and does not validate the student's hands-on skills. 
EC Council Certified DevSecOps Engineer (CDE)
The EC Council Certified DevSecOps Engineer (CDE) course is a pretty new course and is designed for students with an understanding of application security concepts and a minimum of two years of work experience in application security.  Provides hands-on labs and the certification exam is 4 hours long consisting of 100 multiple-choice questions. The certification is valid for three years; a minimum of two years of prior work experience in application security is a prerequisite.
Pros:
EC Council is popular for many other security certifications- this gives this certification reputation.
Cons:
To be eligible to take the EC Council Certified DevSecOps Engineer exam, you need a minimum of 2 years of work experience in application security, which may be a barrier for some aspiring candidates.

There is an annual membership fee of $80 USD for maintaining the ECDE certification, which may be a recurring cost for professionals.

No mentoring support provided during the student's learning phase.

The exam is MCQ Based on and does not validate the student's hands-on skills. 

The course lacks experience in the field: The course was launched in 2023. This gives it less experience and credibility in the industry
DevSecOps Practitioner by DevOps Institute
The DevSecOps Practitioner certification by DevOps Institute is an advanced-level certification that strongly recommends the DevSecOps foundation certificate as a prerequisite. The exam is 90 minutes long and consists of 40 multiple-choice questions with an open-book policy. The passing score is 65%, and the certification is valid for two years.
Pros:
Certification is easy to pass since the MCQ Exam is based on video lectures.
Cons:
The certification strongly advises having the DevSecOps foundation certificate as a prerequisite, which means individuals have to invest time and money to complete another certification before pursuing the DevSecOps Practitioner certification. 

While the CEU requirement of DevOps Institute certifications is intended to promote ongoing learning and development, it may not be suitable for everyone and may limit an individual's flexibility in pursuing professional development opportunities.

The Course is not in-depth or hands-on and may not provide an individual with the required skills to implement DevSecOps.
Also read, Best Kubernetes Certifications
Frequently Asked Questions Related to DevSecOps  Certification
Here we will answer some of the frequently asked questions about DevSecOps certification and courses.
What is DevSecOps Certification?
DevSecOps certification is a professional certification program that equips individuals with the necessary skills to implement security into the DevOps process. It is designed to ensure that the DevOps pipeline can have an effective security layer to protect applications, infrastructure, and data, throughout a software development lifecycle.
Is DevSecOps in Demand?
Yes! DevSecOps is a highly in-demand field, and the demand is only expected to increase. A report by Grand View Research suggests that between 2021 and 2028, the DevSecOps market is expected to grow at a CAGR of 24.1%. As more companies adopt DevSecOps practices, the demand for professionals in this field will likely continue to grow.
Is DevSecOps a Good Career?
Yes, DevSecOps is a lucrative and rewarding career. As the demand for DevSecOps professionals grows, their salaries also increase. According to Talent.com, the average DevSecOps salary in the US is $140,000 per year or $67.31 per hour. The basic pay for entry-level employees is $119,080 annually, while the average yearly salary for experienced workers is around $177,470. Additionally, some other reasons to consider DevSecOps as a career include Opportunity for growth: With the demand for DevSecOps on the rise, professionals can expect many opportunities for growth and career advancement. Variety in roles: DevSecOps is an interdisciplinary field that offers a range of roles such as DevSecOps engineers, security analysts, and security architects, among others. This diversity allows professionals to find a role that fits their skillset and interests. Job satisfaction: DevSecOps professionals play an essential role in ensuring that software is secure, safe, and reliable, which can be highly satisfying.
Also read, Why DevSecOps is a Promising Career Option in 2023
How do I Start a DevSecOps Career?
To start a DevSecOps career, a fundamental understanding of programming languages, cloud infrastructure, and security concepts help. You can begin by learning DevOps and security fundamentals, which will give you a solid foundation for a career in DevSecOps. There are multiple ways to obtain knowledge: Work with the security colleagues in your organization to gain some security insights on the systems you are responsible for. Participate in security conferences, or development or devops conferences where there are security-related talks or discussions. Become a member of your local or online meet up groups or security chapters. Find a training provider that teaches DevSecOps along with the fundamentals of DevOps, and Security.
Also read, How to Start Learning DevSecOps?
How do I Become DevSecOps Certified?
To become DevSecOps certified, you must take an accredited certification program that covers DevOps and security fundamentals, as well as practical DevSecOps implementation, security testing, and assessment. You'll also need to pass the certification exam. Practical DevSecOps offers an excellent Certified DevSecOps Professional (CDP) course with hands-on training through browser-based labs, 24/7 instructor support, and the best learning resources to up skill in DevSecOps.
What Degree is Best for DevSecOps?
There is no specific degree required to start a career in DevSecOps. However, a degree in computer science, information technology, or related fields can provide valuable knowledge of programming, data structures, and system architecture. Still, accreditation and certification programs offer practical training and case studies to increase your skills and knowledge in DevSecOps.
What are the 4 Components of DevSecOps?
The four components of DevSecOps are culture, automation, measurement, and sharing. These components are essential to promoting collaboration, continuous improvement, and secure development practices within DevOps teams.
What is DevSecOps vs. DevOps?
DevOps is a software development methodology that promotes collaboration and communication between development and operations teams to deliver software faster. DevSecOps takes this a step further by incorporating security into the DevOps process. DevSecOps ensures security is an automated function that is central to E2E delivery.
How do I Become a DevSecOps Expert?
To become a DevSecOps expert, you need a combination of experience and learning. Continuous professional development, attending conferences and seminars, getting certifications, and taking accredited training from trusted providers can help you develop your skills and knowledge in DevSecOps. Start at the foundation and grow upwards.
Also read, How to Become a DevSecOps Engineer?
What is DevSecOps Training?
DevSecOps training is an educational program that is designed to equip individuals with the skills and knowledge required to integrate security into the DevOps process. Training covers a range of topics, including security testing, risk assessment, and secure coding practices.
Summary
DevSecOps certifications are in high demand, and they can add value to your resume if you are someone working in Security. But it's hard to choose when multiple  DevSecOps certifications are promising the best upskilling results. Therefore certifications need to be compared taking into consideration their prerequisites, mentorship, resources, hands-on training, Exam process, fees, and certification validity. I hope the comparison of the Top 4 Best DevSecOps certifications that we provided you above gave you good insights to choose better.
Also, are you looking for Best Security Certification in Kubernetes?