Getting a certification in Kubernetes is one of the best ways by which you can upgrade yourself in the hierarchy of security professionals. Many of the best Kubernetes courses can nurture the needed skills and competency in professionals, enabling them to be capable enough to manage and protect cloud-native technologies like Kubernetes. This blog comprehensively discusses the best Kubernetes certification in 2023.
"Give a man a container and you keep him busy for a day; Teach a man Kubernetes, and you keep him busy for a lifetime."
-Kelsey Hightower
Top 5 Best Kubernetes Certification Courses 
Are you trying to find the best Kubernetes certification courses for 2023?
Well, which best Kubernetes courses would suit you depends on what role you're looking for and which skills you aspire to upskill. Here is a detailed comparison and the list of the 5 best Kubernetes certification for 2023.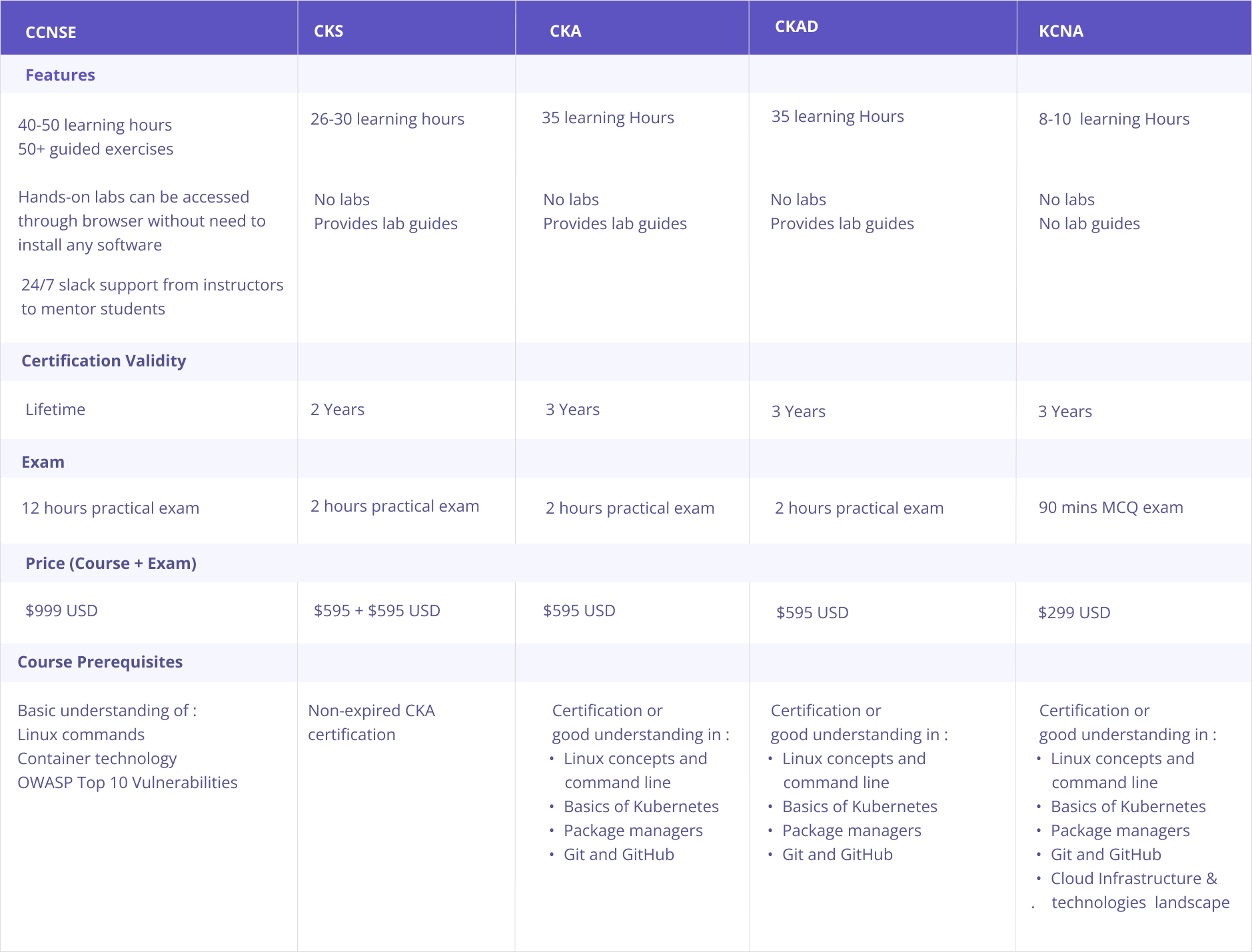 Certified Cloud-Native Security Expert (CCNSE)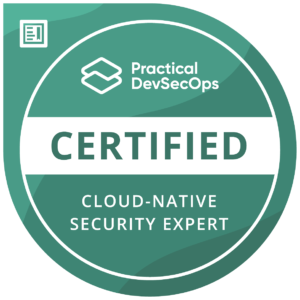 The Certified Cloud-Native Security Expert (CCNSE) course is one of the best Kubernetes certification for upskilling in Kubernetes security offered by Practical DevSecOps.
In addition to theory, the course offers hands-on training through browser-based labs.
The CCNSE course provides ample resources for students to excel in its 12-hour practical exam, such as  50+ guided exercises, 24/7 instructor support, and more.
Best suited for Security Professionals, Penetration Testers, Red Teamers, Application Security Engineers, IT managers, Developers, and DevOps Engineers.
Duration: Flexible
Validity: Lifetime
Kubernetes certification cost: 999 USD
The following topics are covered in depth in the CCNSE course:
Cloud-Native Concepts and its Security

Microservices Architecture

Containers and Container Security

Introduction to Kubernetes

Hacking Kubernetes Cluster

Kubernetes Authentication and Authorization

Kubernetes Data Security

Kubernetes Network Security

Defending Kubernetes Cluster
Certified Kubernetes Security Specialists (CKS)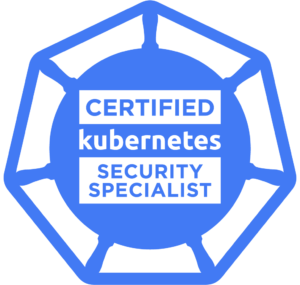 The Certified Kubernetes Security Specialists certification is one of the best Kubernetes courses if you're trying to understand the fundamentals of Kubernetes security and prefer a short syllabus.
However, before registering for the CKS exam, candidates must have a non-expired CKA certification. 
To get certified, the candidates must take a 2-hour practical exam. The exam retake is allowed twice per exam registration.
Also, Read How to Pass CKS Exam
No labs are provided, and candidates must set up their labs using a Linux server or desktop/laptop and a public cloud provider or VirtualBox. 
Best Suited for DevOps Engineers, Software Engineers, and Site Reliability Engineers.
Validity: 2 Years
Certification prerequisite: Non-expired CKA certification
Kubernetes certification cost: 595 USD + an additional 595 USD for CKA
The following topics are covered in the CKS course:
Cluster Setup

Cluster Hardening

System Hardening

Minimize Microservice Vulnerabilities

Supply Chain Security

Monitoring, Logging, and Runtime Security
Also read, Is CKS Certification Worth it?
Certified Kubernetes Administrator (CKA)
The Kubernetes Administrator certification primarily aims to demonstrate a candidate's abilities to perform the duties of Kubernetes administrators.
But no labs are provided in their training, and students have to set them up independently based on the lab guide provided.
Linux Foundation offers the Kubernetes Fundamentals LFS258 course to provide its candidates with the required understanding to pass the CKA exams.
Best Suited for Kubernetes Administrators, Cloud Administrators, and other IT Professionals.
Validity: 3 Years
Kubernetes certification cost: 595 USD
The following topics are covered in the CKA course:
Storage

Troubleshooting

Workloads & Scheduling

Cluster Architecture, Installation & Configuration

Services & Networking
Also read, CKS vs. CKA, Understand the difference
Certified Kubernetes Application Developer (CKAD)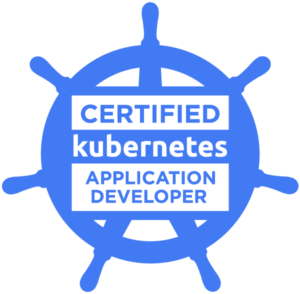 Certified Kubernetes Application Developer is for those who want to engage in cloud-native microservice application development and deployment.
CKAD evaluates candidates' abilities to design, develop, and deploy cloud-native applications for Kubernetes.
Kubernetes for Developers LFD259 is the training course Linux Foundation provides for developers interested in Kubernetes. 
This course requires students to be familiar with Kubernetes, Linux concepts and command line, package managers, Git, and Github. However, the course does not provide a lab environment, meaning students must establish their own lab setups to practice. 
Best Suited for Administrators, Developers, and Engineers who want to engage in Kubernetes application development.
Validity: 3 Years
Kubernetes certification cost: 595 USD
The following topics are covered in the CKAD course:
Application Design and Build

Application Deployment

Application Observability and Maintenance

Application Environment, Configuration, and Security

Services and Networking
Also read,  CKAD vs CKA
Kubernetes and Cloud Native Associate (KCNA)
Kubernetes and Cloud Native Associate certification by Linux Foundation is designed for candidates who want to have foundational knowledge and skills in understanding Kubernetes.
This is not a professional-level certificate and therefore requires no prerequisites.
KCNA has a relatively easy exam focusing on Kubernetes and related tools in a cloud-native environment. KCNA certification has no practical exam but tests its candidates' know-how through 60 multiple-choice questions.
Best Suited for anyone interested in gaining a basic understanding of Kubernetes.
Validity: 3 Years
Kubernetes certification cost: 299 USD
Also read Best Kubernetes Books

KCNA gives a theoretical understanding of the following topics:
Kubernetes Architecture and Components 

Kubernetes Networking 

Kubernetes Storage 

Kubernetes Security 

Kubernetes Monitoring and Logging 

Cloud-Native Application Development 

Container Orchestration with Kubernetes
More interested in best Kubernetes courses relating to security?
Conclusion
The best Kubernetes courses can elevate your standing within the cloud industry and enhance your professional prospects. CCNSE, CKS, CKA, CKAD, and KCNA are some of the best Kubernetes certifications available to level up your understanding of Kubernetes. However, you must be careful in choosing between Kubernetes certifications as the scope and opportunity each can provide may differ in their merits. I hope this blog has helped you to make the right decision in your upskilling.
Interested in DevSecOps ? Here is the List of Top DevSecOps Certification Courses